VARIACIÓN DE LA CONDUCTIVIDAD HIDRAÚLICA SATURADA DE ARENAS CON EL CONTENIDO DE FINOS LIMOSOS
Palabras clave:
Conductividad hidráulica, permeámetro de carga constante, permeámetro de carga variable
Resumen
Este artículo presenta la variación de la conductividad hidráulica saturada de arenas finas con el contenido de finos y con el grado de acomodo, en muestras remoldeadas. Las muestras de suelo se formaron con la humedad óptima y peso volumétrico seco correspondiente a la relación de vacíos del grado de acomodo de la arena fina. La conductividad hidráulica saturada se determinó con el método del permeámetro de carga constante y con el de carga variable. No hubo diferencias significativas entre ambos métodos de prueba.
Descargas
Los datos de descargas todavía no están disponibles.
Citas
L. Gao, M. Shao y Y. Wang. "Spatial scaling of saturated hydraulic conductivity of soils in a small watershed on the loess plateau, China". Soils Sediments Journal 12: pp. 863-875. 2012.
T. Lambe y R. Whitman R. "Mecánica de suelos". LIMUSA (ed), México, D.F. 582 p. 2010.
D. Hillel. "Fundamentals of soil physics". Academic press (ed), London (UK). 413 p. 1980.
B. Juárez y R. Rico. "Mecánica de suelos I". LIMUSA (ed), México, D.F. 642 p. 1989.
G. Spangler y R. Handy. "Soil Engineering". Harper & Row Publishers (ed). New York (USA). 819 p. 1982.
D. Daniel, D. "Hydraulic conductivity and waste contaminant in soil". American Society for Testing and Materials (ASTM) 1142: pp. 16-42. 1994.
P. Vandevivere y P. Baveye. "Saturated hydraulic conductivity reduction caused by aerobic bacteria in sand columns". Soil Science American Journal. 56 p. 1992.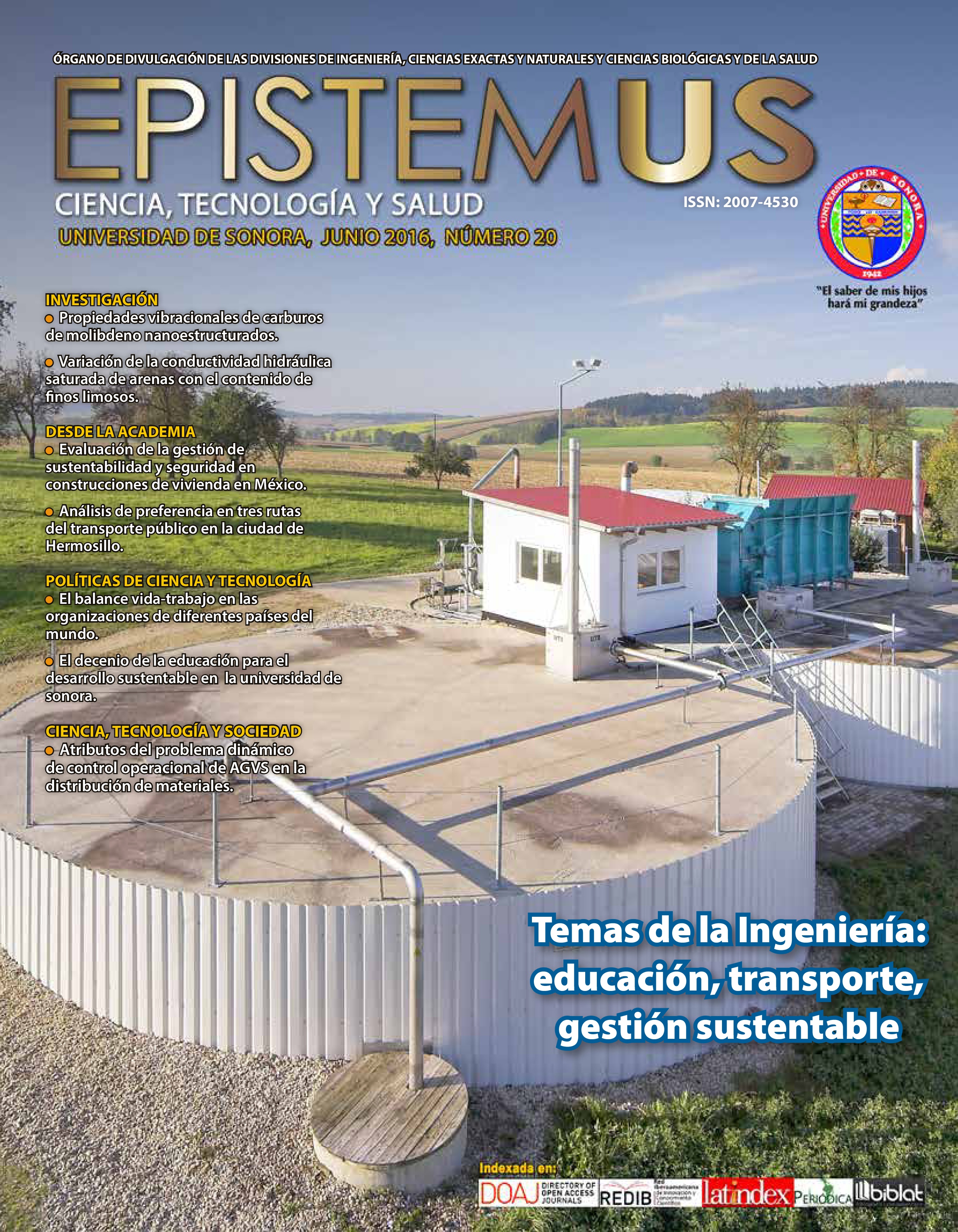 Descargas
Cómo citar
Espinoza Meléndrez, J. A., Rubio Nieblas, V., & Espinoza Mézquita, A. F. (2016). VARIACIÓN DE LA CONDUCTIVIDAD HIDRAÚLICA SATURADA DE ARENAS CON EL CONTENIDO DE FINOS LIMOSOS. EPISTEMUS, 10(20), 33–39. https://doi.org/10.36790/epistemus.v10i20.20
Licencia
Esta obra está bajo una licencia internacional Creative Commons Atribución-NoComercial-SinDerivadas 4.0.
La revista adquiere los derechos patrimoniales de los artículos sólo para difusión sin ningún fin de lucro, sin menoscabo de los propios derechos de autoría.
Los autores son los legítimos titulares de los derechos de propiedad intelectual de sus respectivos artículos, y en tal calidad, al enviar sus textos expresan su deseo de colaborar con la Revista Epistemus, editada semestralmente por la Universidad de Sonora.
Por lo anterior, de manera libre, voluntaria y a título gratuito, una vez aceptado el artículo para su publicación, ceden sus derechos a la Universidad de Sonora para que la Universidad de Sonora edite, publique, distribuya y ponga a disposición a través de intranets, internet o CD dicha obra, sin limitación alguna de forma o tiempo, siempre y cuando sea sin fines de lucro y con la obligación expresa de respetar y mencionar el crédito que corresponde a los autores en cualquier utilización que se haga del mismo.
Queda entendido que esta autorización no es una cesión o transmisión de alguno de sus derechos patrimoniales en favor de la mencionada institución. La UniSon le garantiza el derecho de reproducir la contribución por cualquier medio en el cual usted sea el autor, sujeto a que se otorgue el crédito correspondiente a la publicación original de la contribución en Epistemus.
Salvo indicación contraria, todos los contenidos de la edición electrónica se distribuyen bajo una licencia de uso y Attribution-NonCommercial-ShareAlike 4.0 International (CC BY-NC-SA 4.0) Puede consultar desde aquí la versión informativa y el texto legal de la licencia. Esta circunstancia ha de hacerse constar expresamente de esta forma cuando sea necesario.