Las redes de Petri y su adopción en programas de la Universidad de Sonora
Palabras clave:
Redes de Petri, verificación de software, simulación de sistemas de manufactura
Resumen
Las redes de Petri (PN) pertenecen a una técnica que está ganando popularidad en diferentes sectores industriales, como el automotriz. En este manuscrito se explican brevemente las PN, su historia y algunas extensiones para aumentar las capacidades en la modelación. Asimismo, dos ejemplos de modelos de PN para la industria automotriz, uno para la verificación de un software para el cálculo de posicionamiento vehicular por GPS, y el segundo para la simulación de una cadena de suministro automotriz. Al final se incluye una breve conclusión orientada a su adopción en los programas del departamento de ingeniería industrial de la Universidad de Sonora (UNISON).
Descargas
Los datos de descargas todavía no están disponibles.
Citas
Eleazar Jiménez Serrano. Reporte de trabajo interno a Nidec Corp. sobre la cadena de suministro a nivel Tier-2 de motores eléctricos de la unidad de negocios automotrices de Nidec. Shiga, Japón. Noviembre 2019, "sin publicar".
Eleazar Jiménez Serrano. System and software verification using Petri nets. For functional safety of ISO-26262 requirements. Ed. New York, NY, USA: Amazon press, 2020.
Wolfgang Reisig. Understanding Petri nets. Springer-Verlag Berlin Heidelberg 2013. DOI 10.1007/978-3-642-33278-4.
W. Brauer, W. Reisig, G. Rozenberg. Petri nets: Central models and their properties. Ed. Springr-Verlag. 1987. DOI 10.1007/978-3-540-47919-2
Eleazar Jiménez Serrano. "Estimation of the size of state space of Petri nets to determine the size of hash tables," 12th WSEAS Int. Conf. on Applications of Computer Engineering, 2013, pp. 55-60.
N. Busi. Analysis issues in Petri nets with inhibitor arcs. Theoretical Computer Science No. 275, pp. 127–177, 2002.
Eleazar Jiménez Serrano. Multiple and simultaneous control using Controlled Dan Petri nets. Tesis de doctorado. Universidad de Kyushu. Marzo, 2008.
Louchka Popova-Zeugmann. Time and Petri Nets. Ed. Springer. 2013. DOI 10.1007/978-3-642-41115-1.
G. Balbo. Introduction to generalized stochastic Petri nets. Springer LNCS 4486, pp. 83-131, 2007.
H. Van Dyke Parunak, Robert Savit, Rick L. Riolo. "Agent-based modeling vs. equation-based modeling: a case study and users' guide," Proceedings of Multi-agent systems and Agent-based Simulation, 1998, pp. 10-25.
T. Murata. "Petri Nets: Properties, analysis and applications," Proceedings of the IEEE, Vol. 77, No.4, April 1989, pp. 541-580.
B. Bordbar, L. Giacomini, D.J. Holding. "UML and Petri nets for design and analysis of distributed systems," Proceedings of the IEEE International Conference on Control Applications, 2000, pp. 610-615.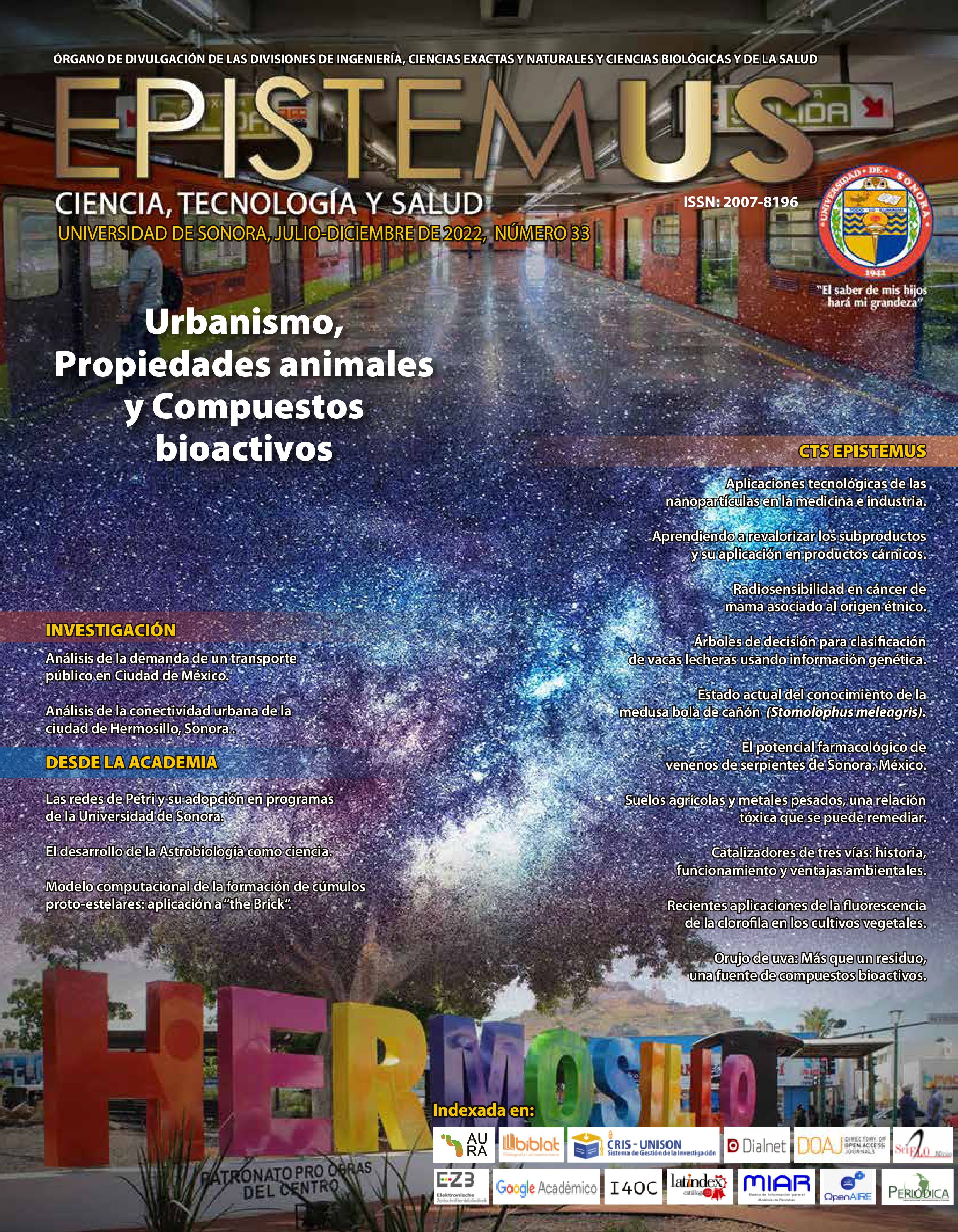 Descargas
Cómo citar
Jimenez Serrano, E. (2022). Las redes de Petri y su adopción en programas de la Universidad de Sonora. EPISTEMUS, 16(33). https://doi.org/10.36790/epistemus.v16i33.221
Sección
Desde la Academia
Licencia
Derechos de autor 2022 EPISTEMUS
Esta obra está bajo una licencia internacional Creative Commons Atribución-NoComercial-CompartirIgual 4.0.
La revista adquiere los derechos patrimoniales de los artículos sólo para difusión sin ningún fin de lucro, sin menoscabo de los propios derechos de autoría.
Los autores son los legítimos titulares de los derechos de propiedad intelectual de sus respectivos artículos, y en tal calidad, al enviar sus textos expresan su deseo de colaborar con la Revista Epistemus, editada semestralmente por la Universidad de Sonora.
Por lo anterior, de manera libre, voluntaria y a título gratuito, una vez aceptado el artículo para su publicación, ceden sus derechos a la Universidad de Sonora para que la Universidad de Sonora edite, publique, distribuya y ponga a disposición a través de intranets, internet o CD dicha obra, sin limitación alguna de forma o tiempo, siempre y cuando sea sin fines de lucro y con la obligación expresa de respetar y mencionar el crédito que corresponde a los autores en cualquier utilización que se haga del mismo.
Queda entendido que esta autorización no es una cesión o transmisión de alguno de sus derechos patrimoniales en favor de la mencionada institución. La UniSon le garantiza el derecho de reproducir la contribución por cualquier medio en el cual usted sea el autor, sujeto a que se otorgue el crédito correspondiente a la publicación original de la contribución en Epistemus.
Salvo indicación contraria, todos los contenidos de la edición electrónica se distribuyen bajo una licencia de uso y Attribution-NonCommercial-ShareAlike 4.0 International (CC BY-NC-SA 4.0) Puede consultar desde aquí la versión informativa y el texto legal de la licencia. Esta circunstancia ha de hacerse constar expresamente de esta forma cuando sea necesario.