Bacterias tolerantes y resistentes a los metales pesados en el ambiente
Palabras clave:
Remediación, bacterias, metales pesados
Resumen
La contaminación ambiental por metales pesados es producto en gran medida de las actividades humanas, en particular de la industria minera. La extracción y procesamiento de minerales genera grandes cantidades de compuestos tóxicos que afectan la calidad del medio ambiente y la salud de los seres vivos. Durante mucho tiempo se ha buscado desarrollar estrategias que permitan remover los metales pesados del medio ambiente con el fin de mitigar su toxicidad. Dentro de estas estrategias destacan las que usan organismos, como plantas, hongos, algas y bacterias, ya que estos son más eficientes, no generan residuos secundarios y no son costosas. Sin embargo, los organismos empleados deben tener la capacidad de crecer en altas concentraciones de metales para poder utilizarlos en la remediación. En este trabajo se busca divulgar los diferentes mecanismos que utilizan las bacterias para la remoción de metales, así como los metales que pueden llegar a ser eliminados.
Descargas
Los datos de descargas todavía no están disponibles.
Citas
C. C. Azubuike, C. B. Chikere, and G. C. Okpokwasili, "Bioremediation techniques-classification based on site of application: principles, advantages, limitations and prospects," World Journal of Microbiology & Biotechnology, vol. 32, no. 11, Nov 2016, Art no. 180, doi: 10.1007/s11274-016-2137-x.
K. S. Kumar, H. U. Dahms, E. J. Won, J. S. Lee, and K. H. Shin, "Microalgae - A promising tool for heavy metal remediation," Ecotoxicology and Environmental Safety, vol. 113, pp. 329-352, Mar 2015, doi: 10.1016/j.ecoenv.2014.12.019.
E. I. Valenzuela, A. C. Garcia-Figueroa, L. E. Amabilis-Sosa, F. E. Molina-Freaner, and A. M. Pat-Espadas, "Stabilization of potentially toxic elements contained in mine waste: A microbiological approach for the environmental management of mine tailings," Journal of Environmental Management, vol. 270, Sep 2020, Art no. 110873, doi: 10.1016/j.jenvman.2020.110873.
R. Loredo-Portales et al., "Mobility and accessibility of Zn, Pb, and As in abandoned mine tailings of northwestern Mexico," Environmental Science and Pollution Research, vol. 27, no. 21, pp. 26605-26620, Jul 2020, doi: 10.1007/s11356-020-09051-1.
X. F. Gao, L. Jiang, Y. L. Mao, B. Yao, and P. H. Jiang, "Progress, Challenges, and Perspectives of Bioleaching for Recovering Heavy Metals from Mine Tailings," Adsorption Science & Technology, vol. 2021, May 2021, Art no. 9941979, doi: 10.1155/2021/9941979.
M. Gutierrez-Ruiz et al., "Acid spill impact on Sonora River basin. Part I. sediments: Affected area, pollutant geochemistry and health aspects," Journal of Environmental Management, vol. 314, Jul 2022, Art no. 115032, doi: 10.1016/j.jenvman.2022.115032.
J. Helser, E. Vassilieva, and V. Cappuyns, "Environmental and human health risk assessment of sulfidic mine waste: Bioaccessibility, leaching and mineralogy," Journal of Hazardous Materials, vol. 424, Feb 2022, Art no. 127313, doi: 10.1016/j.jhazmat.2021.127313.
M. J. Zhang et al., "Geographical distribution and risk assessment of heavy metals: a case study of mine tailings pond," Chemistry and Ecology, vol. 36, no. 1, pp. 1-15, Jan 2020, doi: 10.1080/02757540.2019.1676420.
M. D. G. Baltazar et al., "Copper biosorption by Rhodococcus erythropolis isolated from the Sossego Mine - PA - Brazil," Journal of Materials Research and Technology-Jmr&T, vol. 8, no. 1, pp. 475-483, Jan-Mar 2019, doi: 10.1016/j.jmrt.2018.04.006.
D. W. O'Connell, C. Birkinshaw, and T. F. O'Dwyer, "Heavy metal adsorbents prepared from the modification of cellulose: A review," Bioresource Technology, vol. 99, no. 15, pp. 6709-6724, Oct 2008, doi: 10.1016/j.biortech.2008.01.036.
E. Cavalletti et al., "Copper Effect on Microalgae: Toxicity and Bioremediation Strategies," (in eng), Toxics, vol. 10, no. 9, Sep 06 2022, doi: 10.3390/toxics10090527.
D. Mani and C. Kumar, "Biotechnological advances in bioremediation of heavy metals contaminated ecosystems: an overview with special reference to phytoremediation," International Journal of Environmental Science and Technology, vol. 11, no. 3, pp. 843-872, Apr 2014, doi: 10.1007/s13762-013-0299-8.
B. Gonzalez-Mendez, R. Webster, R. Loredo-Portales, F. Molina-Freaner, and R. Djellouli, "Distribution of heavy metals polluting the soil near an abandoned mine in Northwestern Mexico," Environmental Earth Sciences, vol. 81, no. 6, Mar 2022, Art no. 176, doi: 10.1007/s12665-022-10285-0.
R. Del Rio-Salas et al., "Mineralogy and Geochemistry of Rural Road Dust and Nearby Mine Tailings: A Case of Ignored Pollution Hazard from an Abandoned Mining Site in Semi-arid Zone," Natural Resources Research, vol. 28, no. 4, pp. 1485-1503, Oct 2019, doi: 10.1007/s11053-019-09472-x.
P. R. Yaashikaa, P. S. Kumar, S. Jeevanantham, and R. Saravanan, "A review on bioremediation approach for heavy metal detoxification and accumulation in plants," Environmental Pollution, vol. 301, May 2022, Art no. 119035, doi: 10.1016/j.envpol.2022.119035.
N. Vaid, J. Sudan, S. Dave, H. Mangla, and H. Pathak, "Insight Into Microbes and Plants Ability for Bioremediation of Heavy Metals," Current Microbiology, vol. 79, no. 5, May 2022, Art no. 141, doi: 10.1007/s00284-022-02829-1.
K. Mathivanan, J. U. Chandirika, A. Vinothkanna, H. Yin, X. Liu, and D. Meng, "Bacterial adaptive strategies to cope with metal toxicity in the contaminated environment - A review," (in eng), Ecotoxicol Environ Saf, vol. 226, p. 112863, Dec 15 2021, doi: 10.1016/j.ecoenv.2021.112863.
S. Verma and A. Kuila, "Bioremediation of heavy metals by microbial process," Environmental Technology & Innovation, vol. 14, May 2019, Art no. 100369, doi: 10.1016/j.eti.2019.100369.
J. J. Fan, T. O. Okyay, and D. F. Rodrigues, "The synergism of temperature, pH and growth phases on heavy metal biosorption by two environmental isolates," Journal of Hazardous Materials, vol. 279, pp. 236-243, Aug 2014, doi: 10.1016/j.jhazmat.2014.07.016.
D. Kossoff, W. E. Dubbin, M. Alfredsson, S. J. Edwards, M. G. Macklin, and K. A. Hudson-Edwards, "Mine tailings dams: Characteristics, failure, environmental impacts, and remediation," Applied Geochemistry, vol. 51, pp. 229-245, Dec 2014, doi: 10.1016/j.apgeochem.2014.09.010.
M. Priyadarshanee and S. Das, "Biosorption and removal of toxic heavy metals by metal tolerating bacteria for bioremediation of metal contamination: A comprehensive review," Journal of Environmental Chemical Engineering, vol. 9, no. 1, Feb 2021, Art no. 104686, doi: 10.1016/j.jece.2020.104686.
P. Gupta and B. Diwan, "Bacterial Exopolysaccharide mediated heavy metal removal: A Review on biosynthesis, mechanism and remediation strategies," (in eng), Biotechnol Rep (Amst), vol. 13, pp. 58-71, Mar 2017, doi: 10.1016/j.btre.2016.12.006.
T. Kiran Marella, A. Saxena, and A. Tiwari, "Diatom mediated heavy metal remediation: A review," (in eng), Bioresour Technol, vol. 305, p. 123068, Jun 2020, doi: 10.1016/j.biortech.2020.123068.
O. Monge-Amaya, J. L. Valenzuela-Garcia, E. Acedo-Felix, M. T. Certucha-Barragan, and F. J. Almendariz-Tapia, "Copper biosorption in batch and continuous evaluation using immobilized aerobic bacteria in clinoptilolite," Revista Internacional De Contaminacion Ambiental, vol. 24, no. 3, pp. 107-115, Aug 2008.
J.-L. Zhou, L. Yang, K.-X. Huang, D.-Z. Chen, and F. Gao, "Mechanisms and application of microalgae on removing emerging contaminants from wastewater: A review," Bioresource Technology, vol. 364, p. 128049, 2022, doi: https://doi.org/10.1016/j.biortech.2022.128049.
M. Nanda, V. Kumar, and D. K. Sharma, "Multimetal tolerance mechanisms in bacteria: The resistance strategies acquired by bacteria that can be exploited to 'clean-up' heavy metal contaminants from water," Aquatic Toxicology, vol. 212, pp. 1-10, Jul 2019, doi: 10.1016/j.aquatox.2019.04.011.
A. K. Priya, L. Gnanasekaran, K. Dutta, S. Rajendran, D. Balakrishnan, and M. Soto-Moscoso, "Biosorption of heavy metals by microorganisms: Evaluation of different underlying mechanisms," Chemosphere, vol. 307, Nov 2022, Art no. 135957, doi: 10.1016/j.chemosphere.2022.135957.
A. Choinska-Pulit, J. Sobolczyk-Bednarek, and W. Laba, "Optimization of copper, lead and cadmium biosorption onto newly isolated bacterium using a Box-Behnken design," Ecotoxicology and Environmental Safety, vol. 149, pp. 275-283, Mar 2018, doi: 10.1016/j.ecoenv.2017.12.008.
A. Elahi, A. Rehman, S. Z. Hussain, S. Zulfiqar, and A. R. Shakoori, "Isolation and characterization of a highly effective bacterium Bacillus cereus b-525k for hexavalent chromium detoxification," Saudi Journal of Biological Sciences, vol. 29, no. 4, pp. 2878-2885, Apr 2022, doi: 10.1016/j.sjbs.2022.01.027.
M. Oves, M. S. Khan, and A. Zaidi, "Biosorption of heavy metals by Bacillus thuringiensis strain OSM29 originating from industrial effluent contaminated north Indian soil," Saudi Journal of Biological Sciences, vol. 20, no. 2, pp. 121-129, Apr 2013, doi: 10.1016/j.sjbs.2012.11.006.
A. A. Ikhumetse , O. P. Abioye, and S. A. Aransiola, "Biosorption Potential of Bacteria on Lead and Chromium in Groundwater Obtained from Mining Community " Acta Scientific Microbiology, vol. 2, pp. 123-137, 2019, doi: 10.31080/ASMI.2019.02.0252.
D. Li et al., "Discovery of a novel native bacterium of Providencia sp. with high biosorption and oxidation ability of manganese for bioleaching of heavy metal contaminated soils," Chemosphere, vol. 241, Feb 2020, Art no. 125039, doi: 10.1016/j.chemosphere.2019.125039.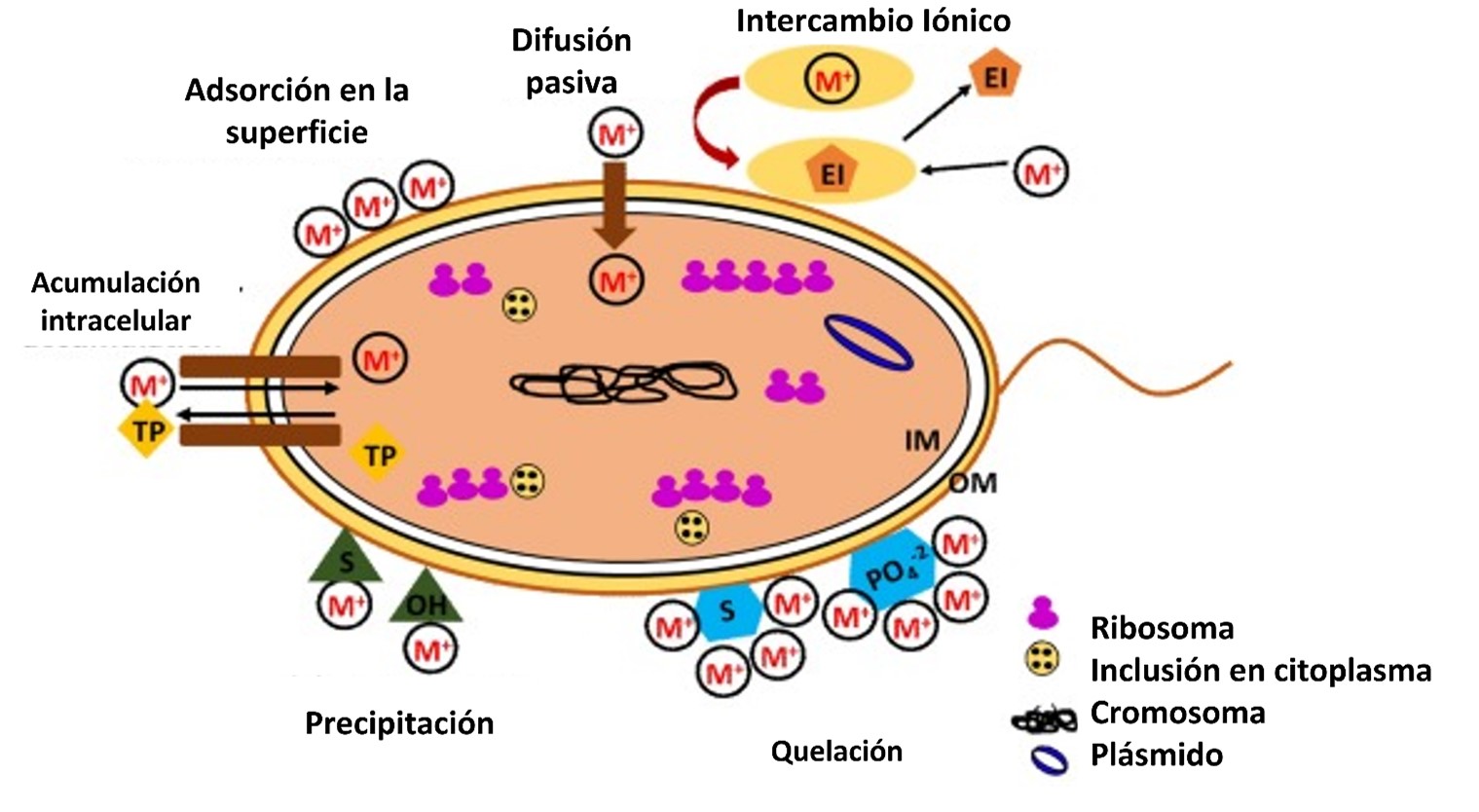 Descargas
Cómo citar
Trujillo Peralta, F. A., López Avilés, G., Mondragón Camarillo, L., & Calderón Alvarado, K. del C. (2023). Bacterias tolerantes y resistentes a los metales pesados en el ambiente. EPISTEMUS, 18(35). https://doi.org/10.36790/epistemus.v17i34.287
Sección
Ciencia, Tecnología y Sociedad
Licencia
Derechos de autor 2023 EPISTEMUS
Esta obra está bajo una licencia internacional Creative Commons Atribución-NoComercial-CompartirIgual 4.0.
La revista adquiere los derechos patrimoniales de los artículos sólo para difusión sin ningún fin de lucro, sin menoscabo de los propios derechos de autoría.
Los autores son los legítimos titulares de los derechos de propiedad intelectual de sus respectivos artículos, y en tal calidad, al enviar sus textos expresan su deseo de colaborar con la Revista Epistemus, editada semestralmente por la Universidad de Sonora.
Por lo anterior, de manera libre, voluntaria y a título gratuito, una vez aceptado el artículo para su publicación, ceden sus derechos a la Universidad de Sonora para que la Universidad de Sonora edite, publique, distribuya y ponga a disposición a través de intranets, internet o CD dicha obra, sin limitación alguna de forma o tiempo, siempre y cuando sea sin fines de lucro y con la obligación expresa de respetar y mencionar el crédito que corresponde a los autores en cualquier utilización que se haga del mismo.
Queda entendido que esta autorización no es una cesión o transmisión de alguno de sus derechos patrimoniales en favor de la mencionada institución. La UniSon le garantiza el derecho de reproducir la contribución por cualquier medio en el cual usted sea el autor, sujeto a que se otorgue el crédito correspondiente a la publicación original de la contribución en Epistemus.
Salvo indicación contraria, todos los contenidos de la edición electrónica se distribuyen bajo una licencia de uso y Attribution-NonCommercial-ShareAlike 4.0 International (CC BY-NC-SA 4.0) Puede consultar desde aquí la versión informativa y el texto legal de la licencia. Esta circunstancia ha de hacerse constar expresamente de esta forma cuando sea necesario.